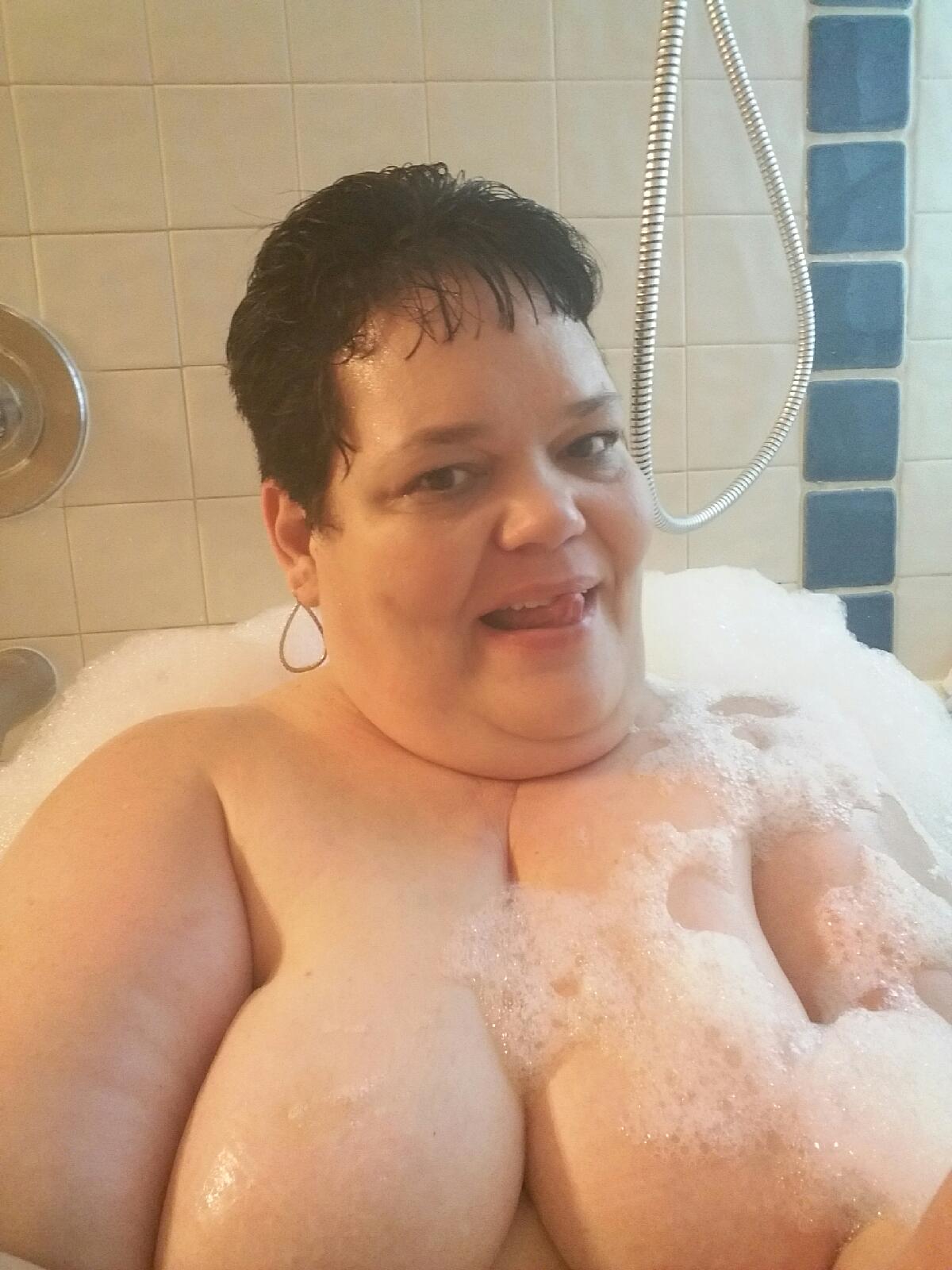 My day brightened the minute Carissa walked in the door. Carissa made deliveries to my work place several times a week. At about 40, she was 3 years older than me, but that didn't seem to bother either one of us. Carissa is a beautiful BBW escort, her round curves makes her more sensual to me. I'd estimate that her breast size was about a 34dd, and her pants did nothing to hide the roundness of her ass.
"Hi Carissa," I said, "how are you doing today?"

"Not bad, Michael, except for this heat," wiping the sweat from my forehead, "but this a/c feels real good."

"I can tell," I replied, looking at her chest. her bra and polo shirt did little to hide that her nipples had reacted positively to the air conditioning.

"Yeah," Carissa said looking down at her nipples, "I must give people quite a show on days like this, but that's the price we girls pay for hot weather and air conditioning. Don't get me wrong, I love hot weather, but this past week has been ridiculous!"

"I know what you mean, I've been going to my parents house every day after work so I can cool off on their pool."

"That must be nice," I said, "my resort has a pool, but you don't get any privacy. There are little brats running around all day and then their no good fathers try to pick me up! That's what I have to look forward to tomorrow."

"That's terrible," I said, "Hey, I have tomorrow off, why don't you come with me to my parents place, they'll be out for the day, we can have all the privacy we want."

Carissa liked the idea, and we made plans to meet at my work in the morning. I spent the rest of the day thinking about tomorrow, wondering what Carissa would wear.

The following morning dawned bright and just as hot as usual. I drove to work and found Carissa already waiting for me. She was wearing a pair of loose shorts and a t-shirt, suggesting to me that she already had her bathing suit on. She gave me a quick hug, and I felt her ample tits press into my chest. We got in our cars and Carissa followed me to my folks house. We walked in the back gate, and I could tell Carissa was very impressed with the pool.

"This is beautiful, Michael, thanks again for having me over."

The pool was surrounded by trees and a solid wood fence, so we would not lack for privacy. Carissa noticed that right away, and remarked on it.

"Oh yeah," I said, "I've skinny dipped here a few times, no one can see you."

Carissa gave a little laugh, and I headed for the pool house to get changed into my trunks. I came back out in time to see Carissa removing her shorts; and it was a wonderful view. She was bent at the waist, causing her round ass to stick out even more. She looked fabulous in her bathing suit as it showed off a quite a bit of her ass. That was fine with me; I've always been ass man, and hers was a fine one.

I walked over and we both lay down on our towels. Carissa pulled out her tanning oil and started to spread it over her skin. I enjoyed watching her oil herself up, her skin glistened. She handed me the bottle and asked me to do her back, and I happily obliged. I spread oil across her back, my fingers reaching under the strap of her top and down her sides to just inched away from her tits. I worked on her lower back, and I let my hands wander to just the point wear her ass cheeks started to swell. I finished her legs and handed her back the bottle.

"Here," she said, "let me do you now, don't want any burning."

I let her rub oil into my chest, her slippery fingers felt good rubbing my nipples, and I noticed she let them linger there a few extra seconds before moving to my legs. She started at my feet, and worked slowly up to my upper legs. Her hands found their way under the legs of my trunks, and came to rest just inches away from my semi hard cock.

We lay back and started to enjoy the sun and each others company. Before to long, the heat got to be too much, and we jumped in the pool to cool off. We played around like little kids for a while, splashing and dunking each other in the cool water. I got a few quick feels of her ass while we were playing, and I felt her hands at my crotch a few times also. The day wore on, and as it got closer to the time for Carissa to leave, I started to feel a little disappointed.

"I wish you didn't have to go," I said.

"Well, I kind of have to" she replied, "I've got a hot date tonite, and I have to get ready."

"Oh," I said a little disappointedly, "I hope he knows how lucky a guy he is."

Carissa smiled and walked up to me, she leaned in and gave me a surprise kiss, her tongue licking across my lips.

"Oh, I think he knows now just how lucky he is," she said smiling.

She gave me directions to her resort in Kissimmee, with instructions to meet her there in 2 hours. I had the hugest grin on my face as she drove away, thinking of the possibilities the night had to offer. I got back to my place, showered and shaved. I dressed in khakis and a polo. I stopped on the way to her place to get some wine and made it to her resort at the appointed time. Carissa answered the door with a smile and a hug and kiss. She looked beautiful in her negligee, it showed plenty of cleavage and did little to hide the fact that she wore no bra. As she turned to lead me in, I quickly dropped my eyes to her ass, I could not see any panty lines, so she either was going without any underwear at all tonite, or she was wearing a thong or g-string. Either way, it looked like a fun night.

Carissa grabbed my hand as we headed for the living room, where Carissa lit more candles and turned on some soft music. I held her close as we started dancing. Feeling her body close to mine, her head resting on my chest, we danced together, not noticing how time seemed to have stopped. Our hands roamed over each other while we danced and soon she lifted her head and pulled my face down to hers as our lips met in a sensual kiss. I felt her tongue slip into my mouth, searching for my own. They dueled there together while my hands slid down her back to cup her ass in my hands. Carissa backed me up to the couch, and pushed me down on it. She knelt between my legs and I felt her fingers start to undo my belt and unbutton my pants. I lifted my ass off of the couch and she grabbed my pants and boxers and quickly pulled them down my legs. My hard cock sprang free and waved in the air. Carissa gave a quick coo of approval and lowered her mouth to within a fraction of my cock. I felt her hot breath on the head, and then her tongue shot out and licked all around the tip. Carissa looked up and her eyes met mine and held me in her gaze as she lowered her mouth onto my waiting cock. Her mouth was so wet and warm, I gave her a moan of approval as she sucked me into her mouth. Her saliva coated my dick as she slid her lips up and down the shaft. After a few minutes of this, she slowly took me as far down her throat as possible. I couldn't believe it when my cock slid all the way into her throat. No one had ever done that to me before, and it had me on the verge of cumming as she milked me with her throat. Carissa could tell I was on the verge of exploding, and she slid up until her lips were locked on the head of my cock and started to pump the shaft with her hand. Her saliva on my cock made her pumping easier, and soon I was moaning her name, about to explode.

"Oh, Carissa, that's so good. I'm about to come in your mouth," I groaned. That just made her work my cock faster with her lips and hand. The feel of her tongue lashing at the head of my cock was too much, and I explode into her waiting mouth.

"Oh, god, I'm cumming!"

Carissa's mouth went into overdrive as she sucked the come out of me, letting it fill her mouth. My breathing and heart beat slowly came back to normal, and Carissa looked up at me and opened her mouth, letting me see all the cum I had deposited there. She smiled at me and swallowed, letting my cum slide down her throat. She smiled at me and bent her head to clean any remaining cum off cock. When she was satisfied that she had got it all, Carissa climbed on my lap and kissed me. I could taste myself on her lips and tongue, and as we kissed, I let my hands wander to her ass. I lifted the hem of her dress and let my hands finally feel her bare ass. I was right about her choice of underwear, I could feel the strap of her thong separating her ass cheeks. I let my fingers slip under her thong, and I could instantly feel her wetness. I let my fingers play up and down her slit, slipping a finger inside her pussy while my thumb rubbed he puckered asshole. We decided to move the party to her king size bed and I stood up, letting my pants and boxers slide to the floor. Carissa pulled my shirt over my head and added it to the pile along with my shoes and socks. Carissa grabbed me by the cock, and guided me to her bedroom.

As we stood by the bed, I lifted her negligee over her head and let it fall to the floor. I stopped to take in her nakedness, her breasts hung soft and full, capped with dark nipples. I lowered my head to her tits and bathed them with my tongue, sucking each nipple in my mouth in turn. Carissa held my head in her hands, and started to guide my lips down her stomach to her panty covered pussy. I knelt at her feet, and slowly licked her pussy through her panties, noting that they were already wet.

"If you want what's under there bad enough," Carissa whispered, "you're gonna have to take them off yourself."

I smiled up at her and hooked my fingers under the waistband and slowly pulled her panties down her legs. I looked back up to see bare pussy right in front of my face. I leaned in and let my tongue slide up and down her lips, finally stopping to take her clit between my lips, and gave it a long suck. Carissa's legs were starting to shake now, so I guided her to the bed, and she lay down with her legs hanging over the edge. I lifted her legs up and bent them at the knees, Carissa took the hint and grabbed her legs, bringing them up to her chest, totally exposing her pussy and ass to me. I leaned back in and let my tongue slide right up her pussy. Carissa whimpered and started to roll her head back and forth. I licked up and down her slit, and let my tongue wander down to her ass. I wasn't sure how she felt about ass play, but I was about to find out. I let my tongue circle her puckered hole as she moaned in approval. I slowly penetrated her ass with my tongue while my thumb rubbed her clit.

"Oh, that is so nasty," Carissa breathed," it feels so good!"

I continued to tongue fuck her ass, and I could tell she was going to come real soon. As her body started to tremble with her orgasm, I pulled my tongue from her ass and slid it up inside her pussy, still rubbing her clit with my thumb.

"Oh, Michael, I'm gonna cum! Keep that tongue in my cunt!!"

Just as she was about to cum, I slid a finger up her ass, and that was all she could take as she squirtted, flooding my mouth with her juices. I kept my finger in her ass and my tongue up her cunt until she finally recovered from her orgasm. Carissa pulled me up and I kissed her, letting her taste herself on my lips. My cock was hard again, and she could feel it rubbing against her stomach. Carissa reached down and grabbed it with her hand, pumping it. She guided me to her warm, wet opening, and I slowly slid into her. She was so wet, I slid in on one stroke, filling her up. We rested like that for a moment, and then Carissa started to move her hips in a fucking motion. I followed suit, and soon we were fucking smoothly. I alternated between short, hard thrusts and long slow ones as Carissa milked my cock with her pussy muscles. I decided that a change of positions was in order, and I pulled out and rolled over. Carissa straddled my hips, and reached under her and guided my cock back into her pussy. She leaned over me and began fucking herself back and forth on my cock. I reached up and pulled her tits to my mouth, and I sucked on her nipples as she fucked me. I held her tits close together and lashed her nipples simultaneously with my tongue. I was getting close, and Carissa could tell.

"Are you gonna cum, baby?" she whispered.

"I'm gonna cum right now!" I groaned, and grabbed her hips so I could pump her harder as I exploded into her.

"Oh that's it, cum in my pussy, baby. Fill it up."

I pumped my cum into her for what seemed like forever. As I recovered, Carissa leaned down smothered my face and neck with kisses, my hands caressing her back and ass.

She slid off me and we lay side by side, her head on my chest, with her hand grasping my shrinking cock. We held each other like that as we both drifted off to sleep.

I awoke a few hours later to feel her hand still grasping my cock. It was hard again, and Carissa was wide awake, slowly pumping it.

"I think someone is ready for another round," she said smiling.

She slowly slid down and took me in her mouth, wetting my cock with her saliva. She released me from her mouth, and got on her hands and knees, facing away from me.

Carissa looked at me over her shoulder. "Get behind me and fuck me doggy style, I love it that way."

Seeing her beautiful ass in the air like that, there was no way I was going to disappoint her. She handed me some lube from her night stand and I coated my cock and her pussy with it. I knelt behind her and rubbed my cock up and down her slit, teasing her. Carissa got impatient and reached under her and grabbed my cock, stuffing it in her pussy.

"Yeah," she moaned, "that's better. I love getting fucked from behind like this."

I started to slowly pump in and out of her as she moved her ass back and forth, matching me stroke for stroke. I took her ass cheeks in my hands and pulled them apart, watching my cock slide in and out of her. I could also see her puckered asshole winking at me with each stroke. I slicked up a finger with her juices and started to rub her asshole with it. Carissa moaned with approval, and I took this as permission to explore further. I slowly slid my finger in her ass and started to stroke in and out in rhythm with my cock in her pussy. Carissa seemed to enjoy this and I wondered how far I could take this. I pulled out of her cunt and placed the head of my cock at her puckered asshole.

"How do you feel about backdoor deliveries? I asked.

"Well, it's been a while since I've done that," she replied, "but you know I always do my best to satisfy my best customers, that's why I say backdoor is open, I love the way it feels inside"

I poured some more lube on my dick, and also placed some on my finger and worked it in her ass. When she was well lubed up,I placed my cock at her ass and slowly pushed in. I met some initial resistance, but, soon her ass opened up and let me slide in until my hips rested against her as cheeks. I remained motionless for a minute, letting us both get used to the feeling. I slowly pulled back, feeling the tightness of her ass gripping my cock, and then pushed back in. I kept up this rhythm up and soon Carissa was moving with me. I gripped her hips and started to fuck her with increased speed while Carissa reached between her legs and rubbed her clit. We were both close to the point of no return, and Carissa was soon moaning my name.

"Yeah, Michael, keep fucking my ass, I'm so close. I want you to cum in my asshole, I want to feel it squirting in my ass!"

I felt her explode, her ass gripping my cock even harder, and I totally lost it, cumming up her ass. I held her ass cheeks hard against my hips as I pumped my cum into her. We both collapsed on the bed, and lay motionless as my softening cock slowly pulled free from her ass. We held each other tight, caressing each other.

Unfortunately, we both had to leave as our session was ending, so I sadly gathered my clothes together and got dressed. Carissa walked me to the door, still nude, and we kissed goodbye.

"This has been the best 4 hours ever," I said.

"Yeah," Carissa replied, smiling. "What do you say we schedule a overnight delivery next time?"

I smiled, "Sounds like a plan to me."

I kissed her goodbye again, and walked to my car to start the drive home.

Yep, it's been a great day, I love when Carissa comes to town. She really delivers as promises and she is never a disappointment. I always look forward to her coming.