Carissa &Samantha Play Great Together... Want to join us?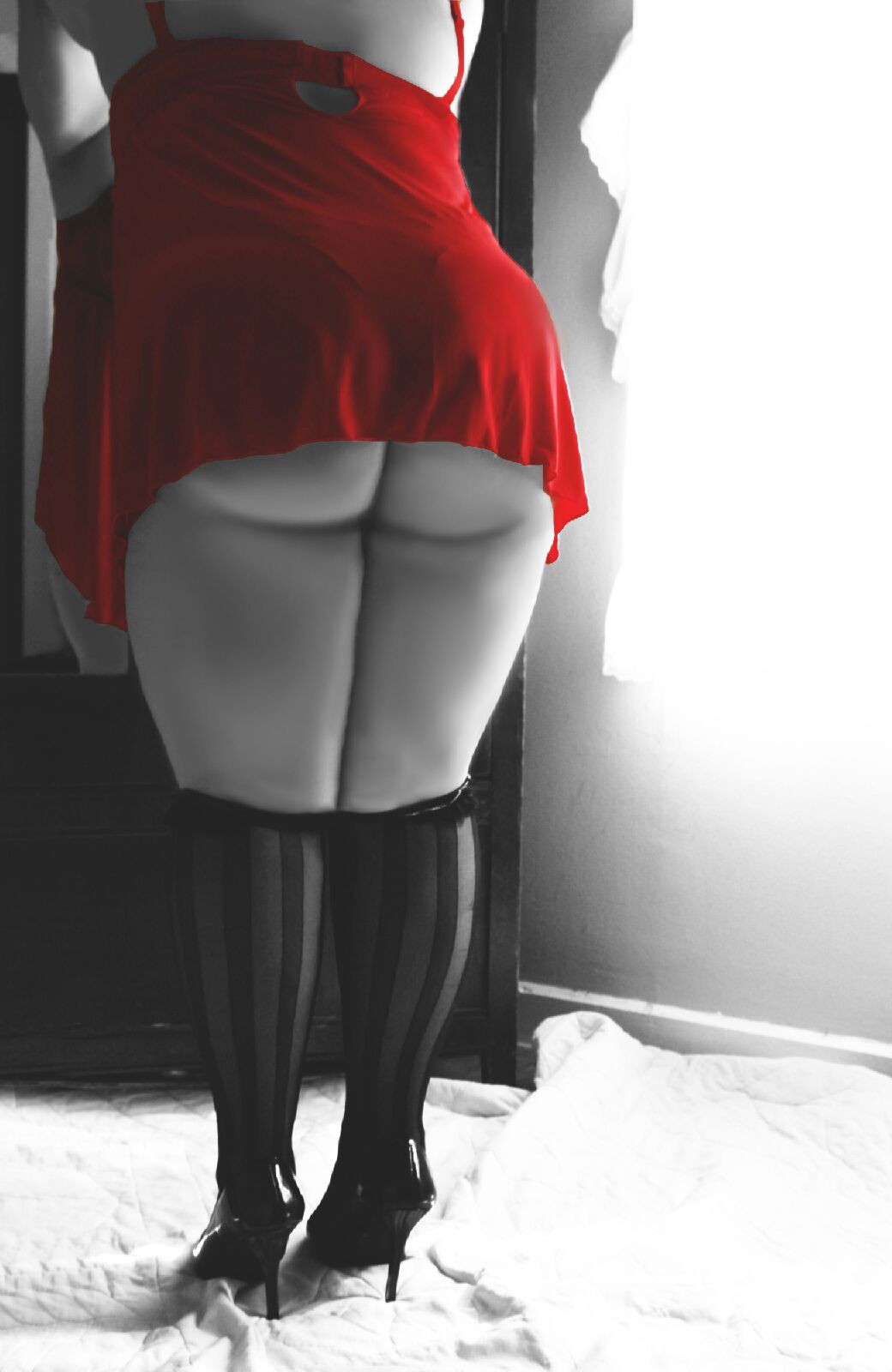 The first thing to say is that this story is called 'How I...' not 'Why I...'. The why is not a long story, I did it for the adventure. At the time I had just hit 35. I had a good job as a nurse, I was single and loving it, I went to swinger parties and did have sexual relationships but nothing long term. The guys would choose to play with me over other ladies and I loved the attention. I did not like that the guys had to pay the swinger clubs money to play with me, or any lady, and some were even rejected and never promised to have fun. I decided to not attend anymore. I can have my own party place and the guys seem much happier to visit me in this situation a lot more. Physically I'm a BBW with curvy hips and a bust to match I have a round booty and I love to offer Greek play. I'm a good-looking package all round, If I do say so myself.
I had started to get into Internet dating with the aim of meeting people for fun both in and out of the bedroom. It was fun but at the same time it could be a little frustrating. I wasn't really getting my sense of adventure satisfied. Then one day I stumbled onto a website that listed escorts. At that time I didn't know that more refined, high class, escorts existed. I found myself looking at the listings of the women, and at their websites, finding that most of them were women a lot like me. I found myself thinking that instead of the dating sites I could offer companionship and be paid a donation for it.
I didn't actually need the money, my job paid me well enough that after my rent and weekly outgoings I had enough left over for luxuries and holidays but nursing requires helping the depressed, sick and challenged. I wanted a job that I could enjoy and be happy doing. I have an overactive libido and this seemed like alot of fun to me. I wasn't starved for attention and didn't have anything unpleasant in my childhood. I had no overriding reason for becoming an escort, other than something deep inside of me wanted to do it. I spent around a year on and off thinking about becoming an escort. I needed to know more, to find out from someone who had actually done it, someone who would answer my questions or tell me to forget all about it.
After a lot of thought I looked into a site called BP for escorts. I decided that I still needed to talk one to one with someone.
One woman who posts regularly on the message board helped me out a lot. Her posts were both sincere and insightful plus she seemed to be the one that people turned to for advice. I had a look at her web site which was classy and although it had semi nude images none of them were explicit. Everything about it seemed to speak to my idea of what an escort should be. So I wrote her a carefully worded private message. I think I waited a good quarter of an hour between finishing the message and pressing send. I felt that I was crossing a line.
I think part of me hoped that she would tell me to get lost. If she had, I probably would have quit trying to become an escort. However, her reply was sweet and encouraging. We spent about a week sending messages back and fourth she was able to answer a lot of my questions and also asked me a lot of very thought provoking questions. Then Samantha asked me if I wanted to meet her so we could chat properly. I jumped at the chance and we arranged to meet.
"It's nice to finally meet you Carissa." She said and held out her arms and gave me a big hug. This made me feel a lot more comfortable; I'm a hugger as well and always hug my friends when we meet, I felt the warmth and friendship of Samantha's hug straight away and instantly felt as at ease as if I was with someone I had known for years.
"It's great to finally meet you as well." I said.
We chatted for about half an hour it was great to be able to talk to her and I felt happy and in my mind I was making the decision to move forward into becoming an escort. I guess that Samantha was seeing that in me as she suggested that she put me onto her website as a duo partner. That way I could meet a client for the first time with her and feel safer than being on my own. She told me to think about it and give her a call later in the evening.
I left Samantha's with my head spinning a little. The idea of a duo session with her was appealing and I thought that would be an ideal toe in the water. But I also didn't want to make a snap decision. I spent the afternoon thinking it over and I also went onto Samantha's website and looked at the links to a review site. I read through them and thought that there was nothing that I couldn't handle, in fact some of what was described was a bit of a turn on. I made my mind up to take the next step. Later in the evening, I called her and told her that I would love to do duos with her.
I arranged to have my boudoir pictures done with Catherine Norton Photography. When the day came I packed a small bag with a couple of sets of lingerie and a little make up kit. I wasn't exactly sure what sort of photos they would be. She made me feel at ease.
Having the photos taken was a lot of fun I got to the photographer's home at about ten in the morning and she had everything all set up. We had a bit of a chat about the sort of photos that would be good and the clothes that I had with me.
The first set of photos that she took was of me in red lingerie. I had bought it at Torrid which is in the mall. It finished just above my black knee high stockings and could barely contain my breasts; it was so tight that I couldn't wear a bra under it. Catherine directed me a little in how to pose although made it slightly harder by making me laugh as well.

I was enjoying myself.
I slipped out of that one and posed for some photos. I started to feel a little nervous for the first time. Then she suggested that I lay on my back and she would shoot some more photos of me. It was this, that stopped me from being nervous, not that I gained some confidence from being positioned but it was how comforting her personality is.
I posed for a few more photos but all very demure. T
he photo's looked very professional and had all the details correct. I decided to open my own website and start posting my pictures. I felt the odd combination of nerves and excitement knowing that the page was live.
After the page went live I had two weeks of doubt. Samantha had told me that it could take a while before someone asked for a duo. So I wasn't expecting anything right away but the waiting made feel anxious.
Then, one day my phone rang while I was running errands. I looked at the caller ID and it was Samantha so I answered.
"Hi Samantha I'm doing errands right now."
"Oh okay, can you call me back later?" She said.
"Sure, I should be home in about half an hour." I replied.
"I'll speak to you then, but just to let you know I've had a duo request. Speak soon. Bye." Samantha said and hung up.
So there I am in afternoon traffic jam, with the knowledge in my head that someone wants to get together with us. I think the absurdity of the situation helped. It was all I could do to stop laughing.
I got home and called Samantha back, she answered after a couple of rings.
"Hi Samantha, It's Carissa." I said.
"Hi Carissa, so are you excited?" She asked.
"I'm excited and nervous but I'm ready." I said.
"Okay, well his name is Greg, he is someone I have seen before so I know he is safe. He has asked for 2 hours on Monday at three, Is that good for you?"
That meant I would have the weekend to prepare myself.
"Yes that will be fine. What time should I get to you?" I asked.
"If you get to me at two thirty, I can give you a little pep talk, and we can be ready.
Is that okay?"
"That will be fine." I replied.
"Just one thing, Greg doesn't know this will be your first time,
I think it's better that he doesn't know." Samntha said.
"Okay, that's good. Thank you again. I'm looking forward to Monday." I said.
"I am too sweetie see you then." Samantha said and hung up.
I spent the weekend preparing myself for Monday. My head was in the right place. A man was wanting to see the both of us for companionship. This was something that I had decided I wanted to do on my own, and I had been given plenty of opportunities to back out. I was happy with the decision I had made and was looking forward to it. I also did some practical preparation. Samantha had lent me a dildo and I practiced putting on and removing a condom. I didn't want to fluff the small stuff. By Monday morning,
I was nervous but confident.
I had a nice long hot bath and slowly, carefully, got myself together. I put on a very lacy bra and matching panties plus a pair of hold up stockings. Over all this I put on a simple black dress, this was for wearing on the journey, I carefully placed a sexy little red lingerie baby doll in my bag and checked that my make up kit was in my handbag as well as I headed out.
I got to Smantha's house at half past two as arranged. I knocked on her door and she let me in. Now I was going to take that giant leap that I had been itching to make.
I knocked on the door and she opened it. As soon as I got through it she gave me a big hug.
"Well you're not shaking so that is a good sign." She said.
"No I'm feeling great, really great." I said.
"Good, sit down and we'll have a quick chat." Samantha said.
I sat down on the couch, she sat opposite me, on a chair.
"As I said, I've seen Greg before, so I know that he will respect limits, but if you feel uncomfortable with something just stop, okay." she said.
I nodded.
"It's all going to be very vanilla, just a little oral and more. We're not going to have to put on a lesbian show or anything."she continued.
I gave an exaggerated look of disappointment that made her smile.
"I'm glad to see your sense of humor hasn't deserted you. That's good because we want it to be fun." she said.
"But being serious for a moment. If you start to feel sore at all don't grin and bear it. Change positions and use some lube or if you really can't go on let me take over. I won't judge you; in fact I might need you to take over for me. Okay pep talk over. Do you have anything you want to ask?" she said.
"No I'm fine, I just need to change." I said.
She took me into the spare bedroom and found me a hanger in the closet for the dress I was wearing. She wasn't wearing a bra and her nipples could be glimpsed when the light hit the dress just right. I helped her zip the dress up and then got into my own red lingerie. She complemented me on this and told me to hang my robe up on the back of the door with hers.
I picked up my purse and went back into the bathroom and touched up my makeup. I then took a few seconds to look myself in the eye, a final moment of confirmation that I was ready. I put my make up back in my handbag and then walked out into the main part of her house.
Samantha had dimmed the lights a little
"You look fabulous. How do you feel, nervous, excited, terrified?" She said.
"A good mix of all three." I replied.
She gave me a hug and then we went over to the couch and sat down. I glanced up at the clock and saw that it was only ten to.
Those ten minutes seemed to pass very slowly.
There was a sharp knock on the door and Samantha reached for the handle and opened it.
Greg was a man in his early fifties. He had neat grey hair and was clean-shaven. He perhaps carried a little extra weight but was not overweight. He was wearing a suit and tie. He looked just like any man of his age who worked in an office. Samanatha closed the door and turned to Greg.
"How have you been?" She asked.
"Not too bad and you?" He replied.
"I've been good. Let me introduce you to Carissa." Samatha said.
I stood up and walked across the room. It was only about five steps but it seemed to take me a lot of effort. I started to realize that I was a little more nervous than I first thought.
"Hi I'm Carissa." I said and held out my hand, which Greg gently took.
"Greg, pleased to meet you." He said.
I smiled and he let go of my hand.
"You look even more stunning than you do in the photos." Greg said.
"Thank you." I said.
"Shall we sit down?" Samantha said.<span class="Apple-converted-sp